Strike 15
Plans available from August 1st 2012
The 15ft STRIKE 15 is a trimaran design, but unlike the Strike 16 and 18 it is a complete design and doesn't use parts from other boats (except see below). As on the 16 and 18 the main hull is hard chine while the outriggers are rounded V stitch and glue tortured ply. Although it is light enough (just) to cartop (under 130kgs all up), trailering (folded beam is only 2m, 6ft6in) is a much more sensible option.
I have been thinking about this design for a number of years. The original concept was to have a "geriatric dinghy". In other words a high performance dinghy that would be easy to sail by older sailors.
Performance skiffs are now very popular in the UK and "Down Under". Here are some youtube videos to show what I mean
First: Although I used to sail an International Moth I think this is too extreme for most people of any age or ability. Never mind the fact that it is too impractical to launch on most beaches.
Second: Not a new design, for it's over 100 years old, even so the International 10sqm canoe is still the world's fastest singlehander. Imagine this with outriggers instead of a sliding seat.
Third: A RS400. This is a non trapeze boat. I was one of the first to sail this design. We did a steady 15 knots between two buoys (I timed it and then later measured the distance on the chart). So I think it is fast enough!
The Strike 15 should be of a similar speed as the rig is almost the same size, the hull narrower and the weight less. Yet the outriggers and wider overall beam means greater sail carrying power and less likely hood of capsizing offwind (few dinghies capsize when sailing to windward as releasing the mainsheet nearly always brings the boat upright)
There are other higher performance boats available (like the RS800 or B14 - check them on youtube). But as I just said, I wanted a boat for older and maybe less experienced sailors. People like me in fact. I know the more extreme boats are too hard to sail for most people.
In some respects it is akin to my Stealth racing dinghy but with "training wheels" added. The addition of the jib and asymmetric spinnaker will easily offset the extra weight and drag from the two outriggers. So it will be a fast boat!! It will take two people when daysailing but is really intended to be raced as a singlehander.
The cockpit is 1.8m x 1.2m (6ft x 4ft) so is large enough to sleep in under a cockpit tent. Thus making the Strike 15 suitable for those who want to race in "raid" style events or even to coastal cruise.
The outriggers fold for transport. This is a common arrangement, first used (I think) by John Westall (the 505 designer) in the early 1970's on the 30ft Ocean Bird trimaran. More recently it has been used on the Dragonfly range of trimarans.
But on all those boats the outriggers fold aft. The Strike 15 folds forward as I think that is a more "fail safe" method. It also means the mainhull is further back on the trailer, so nearer the water and thus easier to launch and retrieve. The mast is "keel" stepped with a mast gate. That means it can be left up with the outriggers folded.
For those who want a simple to sail boat with less performance I have also designed a forward mast step which takes a standard unstayed Laser rig.
I actually spent more time thinking about the outriggers than about the main hull. In theory the outriggers will rarely be in the water. When they are though, I want the minimum wave making (more important at speed than wetted surface) and I didn't want to have the "windward outrigger slam" that is common to round bilge outriggers when sailing in a cross sea. I also wanted to have plenty of reserve buoyancy for the times when I do get caught out offwind. See below
And the ability to sail off and on a beach without the daggerboard would be a bonus. So, maybe surprisingly, I decided that a rounded V Quattro 14 type hull was the way to go.
But even with big outriggers in those survival conditions you may still capsize. The Strike should be easy to right because the outriggers have open transoms with transom flaps. So they are only partly buoyant (there is a horizontal watertight "deck" running the length of the hull at about half height). So when inverted they will flood and thus allow easy righting. This is a system similar in concept to the hollow "sinking wings" that I use on my Stealth design.
The Strike 15 is very easy to build with a stitch and glue hard chine hull and flat panel ply decks. Estimated build time ready to paint is 150 hours. I have tried to design it so that each stage can be broken down into 2 hour segments, making it ideal for an evening-after-work project
CLICK HERE for a study plan,(in pdf format). And CLICK HERE for a sheet from the building plans
Plans cost GBP100 and are available only as download plans in pdf format (sent as a zip file)
The photos below show the prototype Strike 15 being built in Canada. So the main hull plans are now finished. The outrigger and beam drawings will be available shortly. Photos will be updated regularly, so keep checking back!
Photo after 4 hours work - above (note: the panels are not quite flat on the ground)
And after 12 hours of work - below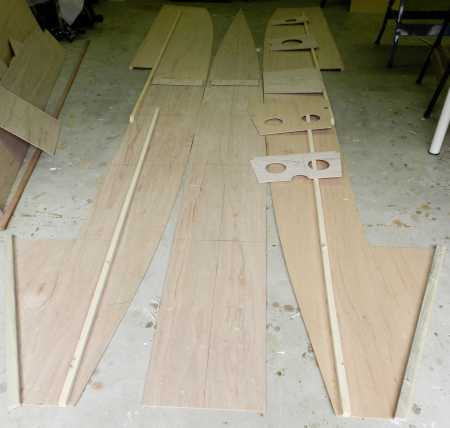 The bulkheads have been cut out and notched. The panels have been butt strapped together and all panel stiffening added. Almost ready to stitch together!
And then a couple of hours later the daggerboard box/king post assembly is made and glued in position
A bit more fiddling around, making a total of 25 hours work and the hull was ready to assemble. You can see me doing a dry fit below. Note it is all one camera shot, proving it really is an easy boat to put together. And unlike my other videos, this one does have sound. At this stage the boat weighs 16kgs
I have recently updated the Strike studyplan pdf, so its worth looking at again if you haven't seen it for a while. One change is to show where the oars would go if you wanted to row the boat. The outriggers are folded forward and the rower sits slightly aft, basically on the daggerboard box so he doesn't hit the mast. And you need oars about 3m (10ft) long. The rowlock is on the aft outer outrigger beam bolt, so they are "outriggers" in every sense.
Cameron has carried on building the prototype. After 57 total build hours the main hull looked almost complete. Tthe bulkheads and inner chine joints are all bonded in place. The cockpit is all glued together. The locker bases and cockpit floor are all loose fitted. We expect it all to be fully assembled in the next 30 hours of work. The only major items to fit are the foredeck and wing fronts. The foredeck will have a removable panel to make it easier to access the stowage area.
The outrigger panels will be cut out while I am still in Canada, but not assembled until I get back to the USA
To order please use the Order Form, and say in the Comments box that you want the Strike 15 plans.
I will process your card and then email you the drawings directly (there are no paper plans). Don't worry, the Order Form is on a secure server, just like the Shopping Cart.
Strike 15 Approximate Materials List
6mm gaboon (okoume) marine ply (8ft x 4ft sheets) 1sheet
4mm gaboon (okoume) marine ply (8ft x 4ft sheets) 5 sheets
3mm gaboon (okoume) ply (8ft x 4ft sheets) 4 sheets
2in x 1in 20m
11/2in x 1in 5m
1in x 1in 20m
4in x 1in 5m
3in x 1in 3m

Epoxy resin 5kgs min 200g glass cloth 1kg min
Screws 3/4in #6 counter sunk stainless steel 500
Filler etc as required
Scrap timber for frame
No allowance for waste. Timber sizes nominal planed all round (PAR) use softwood, eg Douglas fir, Sitka spruce etc