STRIDER is the most popular of our micros as it offers a good compromise between speed, accommodation and low cost. It is available as a g.r.p. production boat while plans for wood construction are also available.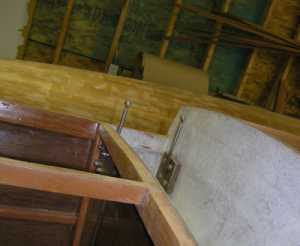 Crossbeam bolts, as used on all our demountable designs, 4 per beambox
Striders are very good sea boats and have competed successfully in tough offshore races. A racing version, the Turbo, with wider beam, increased rig size, rotating mast etc. is available for those who aim to race at the highest level or sail in a very light wind area, see lower drawing on left.
Interior layout as on Shadow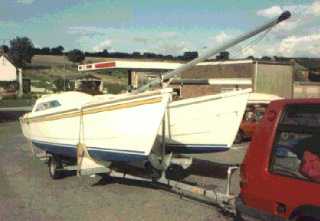 Striders are the classic trailable boat, fitting snugly behind
a family saloon car.
"Once on the water she provides exciting sailing as well as giving a safe ride for inshore cruising weekends or holidays for a young family"
Yachting Monthly
"Strider is a fast, light, exhilarating day sailer, great fun to sail"
Yachting World, October
"Builders of this racer/cruiser should produce a craft that will give them a great deal of pleasure and very little grief"
Dick Newick in Wooden Boat, November 1986
from a race report by a Zimbabwe Strider sailor

"What great racing with four Striders on the water & Farrier 27 which we beat easily, and now Tim O'Leary has launched his new Farrier that he scaled up 15% and the sails 20% up! It went well, but we still beat him over 7 races."
Here is a short Youtube video, taken from the Multihull Sailors Have More Fun! video, see the Video page for more details. It shows our Strider Turbo with a big rig and 5.3m beam. The standard Strider is less extreme. Notice how fast the Strider tacks.
You can see more photos, material list etc here
http://www.sailingcatamarans.com/1strider25index.htm
To order the Download versions of study plans or building plans please use the Shopping Cart
To order paper versions of study plans or full building plans please use this order form
Contact
Richard Woods
Foss Quay, Millbrook, Torpoint, Cornwall, PL10 1EN, UK