Articles
Eclipse Sailing Photos
The following photos are all of my own Eclipse which I launched in 2001 and then sailed to the Caribbean and beyond in 2002 - 2006
This photo is on launch day
and this one a few days later on its first sail
this is a close up of the speed and wind when sailing under spinnaker. 8.3 knots in 11 knots of wind at 67 deg (F3, no white horses)
I raced Eclipse extensively in the UK before going cruising. Including winning the Round the Island race by over an hour, although this photo is when winning a race into Fowey.
This photo was taken in mid Atlantic. We took 18 days to cross from the Canaries to Barbados
and this just after arriving in Barbados
I then sailed through the Caribbean and north to the USA. You can read more in the Eclipse Logbook, download it as a pdf HERE, or see the link in the left menu. There is also more on the Year Review pages, again use the left menu for links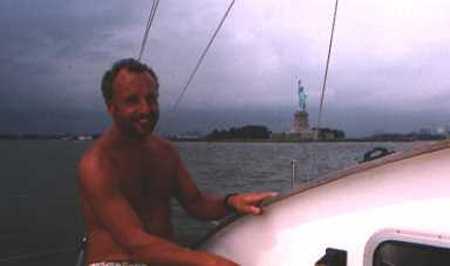 Then south again to Panama via Cuba, Belize and Guatemala. Much of the time when cruising we sail under autopilot. A remote control means that in bad weather we can still "steer" from inside the cabin. Because of course there is all round vision. But on a nice day we sit outside on the comfortable wrap round seating.
We had a great sail to Cuba, averaging 9 knots and seen here doing 12.
We survived a summer in the humid Rio Dulce, Guatemala and then went east to the Bay Islands
Not surprisingly, one of our favourite cruising grounds is the Kuna Yala, or San Blas islands of Panama
and then, after a couple of seasons there, finally to the Panama Canal
Meanwhile, others were also sailing their Eclipses. This slightly modified one (longer cabin, different interior, inboard engines) was launched in the UK and cruised to the Med and back.