Articles
Gypsy Building Photos
The Gypsy can be built using several methods. Sheet ply, flat panel foam sandwich hulls with ply decks and strip plank cedar hulls with ply decks
I built my Gypsy using foam sandwich hulls and ply decks and cuddy. The foam panels are made as flat sheetslaid up on melanine faced chipboard or MDF, producing a smooth, gel coat finish. This Gypsy was started in a 5m x 5m (16' x 16') garage, so the hull panels were made in two pieces, each 14' long
After joining to length (if necessary) they are cut to shape and then set up over bulkheads (exactly the same as if you were building in plywood, except the foam panels are stiff enough not to need stringers) After glassing the chine joints and the bulkhead to the hull sides the boat is ready to turn over - after painting of course!
The hull is now ready to fit out (which is just a question of adding a bunk base fore and aft. Note, these help stiffen the hull sides) and then deck it
You get the same result when building in plywood. These photos are of a boat built in Panama, which later sailed across the Pacific to Tahiti. Builder Winnie, below, taking a rest
It makes sense to build each hull to the same stage, that way you remember what to do
But some people, including me, fitted the keels last so that the hulls would stay upright by themselves when the right way up. It also makes the gunwale height lower, so its easier to get on board. Both this ply builder, below, and I had almost finished the boat before fitting the keels. You can see the unfitted grey keels (wrong way up) below, yet the mast is up!
Turning the hull over is easy. I got two helpers when I turned mine over, and one was 6 months pregnant at the time. A ply hull after turning over, below, ready for decking
The companionway hatch can be at the aft end of the cabin or on the side (as shown here) This arrangement makes it easier to separate the heads compartment from the rest of the boat. The aft entrances are easier to use, and allow storage of long items eg windsurfers etc
The cuddy is built separately from the hulls and can be fully completed before starting work on the hulls. It is small enough to be built in most garages, thus saving a lot of travelling time and yard costs.


This shows the cuddy partially finished, note the mast beam at front end of cuddy. The beam is made in three pieces, ie cuddy plus two hulls, and joined during final assembly
Once all the parts are made you can start final assembly. The walkways between the hulls are fitted last and you can see how safe it will be to walk forward to "work ship". It also means you have lots of tolerance to allow for any building errors
A few builders have lengthened their hulls to 30 ft. That allowed them to fit an aft platform for carrying a dinghy and to make engine repair easier
And finally - ready to launch! Quite a performance for this Panamanian built boat, as it was 100 miles from the sea!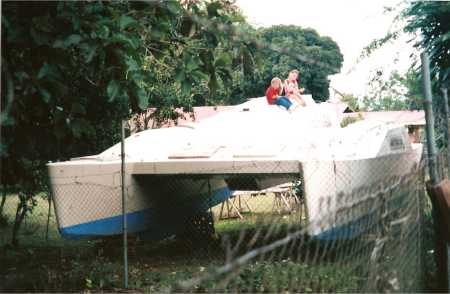 this photo is of a Gypsy built in Spain
and this one in New Zealand
These photos are of a round bilge strip plank Gypsy that will be fitted with daggerboards