Articles
Gypsy Anchored Photos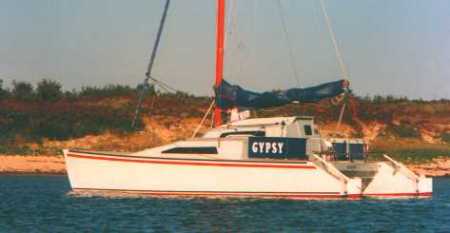 My own Gypsy at anchor in the Scillies, 30 miles off the UK. Note the "daggerboard style" lifting rudders
This BC boat was later sailed to Mexico and back via Hawaii. The photos show the Gypsy BEFORE all the
"stuff" was added. As you can see it was a lot lighter and floated on its lines
This is the "Panama Gypsy" after launching and the photo below after arriving in the Marquesas, a long singlehanded sail. It explains why the boat now looks a bit bedraggled
This UK built boat seen in Sardinia. Note it's floating on its marks even though its a live aboard cruiser with radar etc fitted
This photo shows a well travelled Gypsy, even before being rigged. For it was built in three different countries!! Started in the UK, then Germany and finally launched in Holland. Good thing the Gypsy is modular!
It is shown next to a 22ft Wizard and shows just how much bigger a boat gets when the length increases
The owner wrote:
"The photo (above) shows my Gypsy (Water Music) in the harbour in Wilemshaven shortly after our launch in 2006. The picture also shows the Wizard of a Dutch friend. I have lived in 4 countries (and had four different jobs) since I started the build. The boat has survived a major fire that destroyed an adjacent power boat on the hard. Water Music withstood major heat and was saved by the fire brigade. All I had to do was replace a melted window and fix some blisters in the epoxy fairing.
I really should write the story of the building of Water Music, it has been an incredible journey, bring the constituent parts together from UK, Germany and 2 locations in Holland."