Articles
Sagitta Sailing Photos
These two photos were taken while I was sailing our grp Sagitta singlehanded in about 20 knots of wind (hence the reef). Boat speed was 9 knots to windward and 12-13 offwind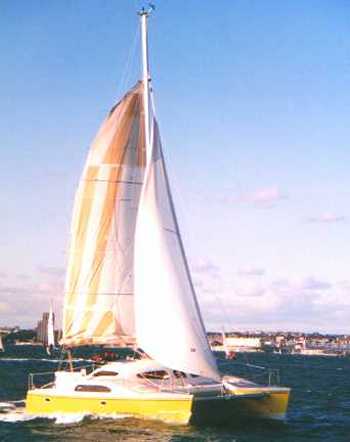 We used a masthead spinnaker that came from our bigger Banshee - so it was maximum size. This photo is on one of our first sails, before we finished painting the boat.
We did once sail at 12 knots with 16 people on board (or 16 knots with 12 - I'm sorry I cannot remember which except we went fast and had a lot of people on board) see below
Anyone can sail a Sagitta, it's very light on the helm
while the foredeck is a great place to lounge and kick back. This is a grp Sagitta sailing in S Africa
And this is a wood Sagitta. Note the smaller, sheet ply cabin roof
A small dodger helps protect the companionways from rain and spray
While these photos are of a far-sailed Dutch Sagitta, originally built in the UK, it has sailed to the Azores and to N Scotland
Note the high bridgedeck clearance, which starts well back from the bow and is kept as short as possible. The result is very little wave slap, while the pronounced knuckles help deflect the waves down and away from the bridgedeck.
Sailing in Scotland
and in Holland
13.2 knots max speed
helming on the sail back form the Azores
Two Sagittas, the front one is a grp boat, the one behind is wood. Note the Iroquois catamaran moored alongside. It is also 30ft long! But slower, less interior room and much less stable
A S African Sagitta. One built here sailed to New Zealand, via the Panama Canal and S Pacific.