Articles
Surfsong Building and Interior Photos
Surfsong can be built using flat panel grp hulls, as shown here, or using plywood hulls. Both versions use ply decks. The panels are laminated on a flat table and then, once cured, cut to shape.
The panels can be sandwich or solid glass with stringers (as shown here). Surfsongs big sister Windsong is a similar build, so check those pages as well. Also check HERE for a builders blog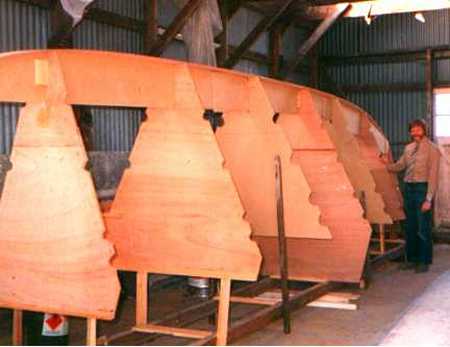 The bulkheads are set up on a building frame (or concrete floor) and the hull panels attached
The keel and bulkhead joints are made, not the wing on the inner hull side
It is much easier to finish the hulls before turning them over, however tempting it is to start decking - don't!
The aft deck and locker
The hulls are surprisingly roomy for a deep V open deck 27ft boat, good freeboard and the wings help.
A fold down chart table
The wing seats are comfortable at sea or in port while the mastbeam adds security when in the cockpit