Pre-owned boats
Due to popular request we now offer this page for those who want to buy and sell their multihull. This web site is seen by thousands of people every month who are specifically interested in sailing catamarans, so it makes sense to advertise here and reach serious potential buyers.
A quote from someone who listed their boat with me: "He paid the price I was asking which I'm pleased about. I only had the boat advertised on your site and was getting an average of about one email a week. I originally thought it could take 2years to sell, what with the economic climate and all. Also it is an unusual boat but it does attract a lot of attention."
"These adverts clearly get viewed by enthusiasts. We needed a quick sale and this advert generated interest from 3 parties in the first week.  
John (Belfast)"
The cost to advertise your Woods Design is £50  and the advert will run until sold. Or the cost is £75  if it is a non Woods Design boat. Boats wanted and gear for sale/wanted adverts can be put on my Forum pages. These adverts are free.
After purchasing an advert please email us with full details of your boat, including up to 4 photos.  Please note, you should send advert as plain text and photos as small separate jpegs. Doc and rtf files will not be accepted as they take too long to reformat. Thank you.
NOTE:  I have kept some old adverts online so you can get a guide to prices
SOLD from this advert!!! Strider Club YETA Price £7950 ono - Strider Club with enlarged rig.
SOLD from this advert!!! Strider Club YETA Price £7950 ono - Strider Club with enlarged rig.
Made famous in "A Day Sail to Russia" and is Richards old boat.
Built 1989. New fully battened main and jib on Harken furler in 2002 by Dolphin Sails. New spinnaker 2003 by HK sails. Mast replaced and re-rigged in 2002. New trampoline in 2004. Main traveller system and jib Barber haulers and spinnaker sheets. Including CQR anchor with chain, various ropes and fenders & boom tent.
Bought from this site in 2005, we have completed 3 Round the Island races and cruised locally in and around Poole Harbour and up to the Solent.
We have re-itted the boat with the following: New 6HP Suzuki 4 stroke outboard with alternator; new battery; new switch panel; new instruments: wind speed & direction, speed/log and depth; new Lowrance colour chart plotter with GPS and charts covering northern Europe; new nav lights; new sea toilet; new radar reflector; new vhf aerial; new stainless steel platform connecting front beam to bridle; additional cleats. The skegs have been epoxied.

Now offered for sale to make way for a larger cruising boat.
This has been an excellent starter boat, it is fast (we have seen 12 knots plus on a two sail reach) it is safe and easy to sail. Ideal dayboat and weekender during the summer.
SOLD from this advert!!! VIXEN Strider catamaran
SOLD from this advert!!!

VIXEN Strider catamaran

Built by Palamos in 1988 Vixen is a standard Strider, that is to say she has daggerboards and a narrow deck (not up to the mast like the Club Strider.) There are also running backstays. She has had Bowmar hatches fitted to the coachroofs making the hulls much lighter inside.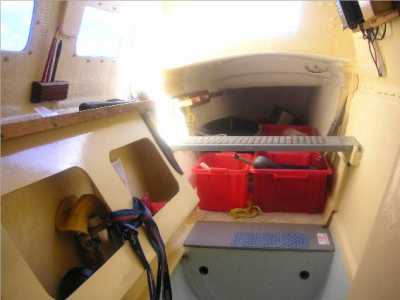 Since 2000 when I bought the boat she has had new sails (the headsail is only 2years old) new standing rigging, new tramps, new rudders and a new 4hp Mercury four stroke outboard. There are two GPS one built in and working with the digital VHF. The other hand held GPS has fittings on the cabin so that it can be moved to whichever side the helmsman is sitting. Vixen was raced seriously in her earlier life, I have been gradually developing her as a cruising boat.
The price includes an excellent purpose built road trailer which has had new springs and brakes fitted and is ready to tow anywhere. The boat can be delivered anywhere in the UK within reason.
SOLD from this advert!!! STRIDER 24FT MICRO MULTIHULL CATAMARAN
SOLD from this advert!!! STRIDER 24FT MICRO MULTIHULL CATAMARAN Lying Lymington, UK. Several suits of sails; furling headsail; masthead spinnaker. Sail no. 63. Outboard motor 4hp. Anchor and chain; warps; fenders. Compass. Road trailer. £7,500 ono. (Note from Richard - this boat was the second Strider owned by probably the most experienced Strider sailor in the world. Thus I suspect it is very well sorted and maintained)