Pre-owned boats
Due to popular request we now offer this page for those who want to buy and sell their multihull. This web site is seen by thousands of people every month who are specifically interested in sailing catamarans, so it makes sense to advertise here and reach serious potential buyers.
A quote from someone who listed their boat with me: "He paid the price I was asking which I'm pleased about. I only had the boat advertised on your site and was getting an average of about one email a week. I originally thought it could take 2years to sell, what with the economic climate and all. Also it is an unusual boat but it does attract a lot of attention."
The cost to advertise your Woods Design is £50 (or approx $75) and the advert will run until sold. Or the cost is £75 ($100) if it is a non Woods Design boat. Boats wanted and gear for sale/wanted adverts can be put on my Forum pages. These adverts are free.
After purchasing an advert please email us with full details of your boat, including up to 4 photos.  Please note, you should send advert as plain text and photos as small separate jpegs. Doc and rtf files will not be accepted as they take too long to reformat. Thank you.
NOTE:  I have kept the old adverts online so you can get a guide to prices
SOLD from this advert!!! STRIDER 24FT MICRO MULTIHULL CATAMARAN
SOLD from this advert!!! STRIDER 24FT MICRO MULTIHULL CATAMARAN Lying Lymington, UK. Several suits of sails; furling headsail; masthead spinnaker. Sail no. 63. Outboard motor 4hp. Anchor and chain; warps; fenders. Compass. Road trailer. £7,500 ono. (Note from Richard - this boat was the second Strider owned by probably the most experienced Strider sailor in the world. Thus I suspect it is very well sorted and maintained)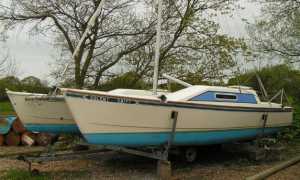 SOLD from this advert!!! 'Sagitta' SCINTILLA
SOLD from this advert!!! 'Sagitta' SCINTILLA
StripCedar/Glass/Epoxy construction with large beaching keels and daggerboards. Built to standard Sagitta lay out with full headroom in each hull, 2 good size double cabins, huge galley, heads with holding tank, separate nav area. Full VDO instrumentation, Wheelpilot, usual cruising inventory and high quality deck fittings. Can be steered by wheel or tiller and is set up for easy short handed sailing. Yamaha 9.9 outboard that is steerable giving good manouverability. This is a fast, seaworthy and easily sailed cruising cat with excellent windward performance. Kept at Foss Quay, Millbrook.