Review of 1998
Boats mentioned: Gypsy, Savannah 26, Strider, Stealth
Review of 1998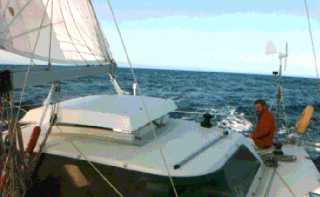 1997 was a boat building year, not just finishing my own boat - the 28' Gypsy - but also making the plugs, moulds and first production Savannah 26. So I was determined that 1998 would be a sailing year. In February I helped deliver a 40' French designed catamaran from Plymouth to the Canaries. Sailing other peoples designs occasionally should be a "Must Do'' for all designers, but I guess most would try to avoid sailing across the Bay of Biscay in mid winter. Even so, the 11 sailing days was about what we expected. We made a stop in Portugal for 24 hours because we didn't want to go to windward in the rain. To sum up: some of the trip was fun, some bad and some so-so - just like life really.
Then in May I spent 3 weeks in Zimbabwe cruising and racing a Strider on Lake Kariba. I had not raced, or even sailed, a Strider for 6 years so I knew I had to relearn fast if I was not to be embarrassed. There are 8 Striders on the lake, and 6 were racing in a fleet of 50 for the club championships. Racing consisted of a series of passage races from one anchorage to the next down the length of the lake and back. When I arrived I was told that as Striders had won for the last 2 years they would be handicapped out for this year. So it was a bit embarrassing for the organisers when Striders not only finished first and second but I was third. Striders are an ideal boat for the lake. The big trampoline is ideal for sunbathing and sleeping on at night (no one sleeps in the hulls, it's too hot and anyway they are usually full of stores).
But it was a bit disconcerting to think that you were sleeping in the open on a trampoline possibly only 40 cm above crocodiles. It was also disconcerting that although we took food for a week with us we went sailing without taking any fresh water. You want a cup of tea? Just fill the kettle from the lake. The high temperatures and luke warm fresh water meant that it was very tempting to swim after racing. I was advised that it was dangerous to swim within one mile of the shore as crocodiles patrolled in shallow water. In fact I only saw two, and because it had been an unusually wet rainy season, I only saw a few other wild animals - elephant, waterbuck, wart hogs etc. I'm not sure whether to be pleased or sorry that I did not to see lions, although other sailors did - often too close for comfort. As a European I'm not used to the idea that wild animals could be dangerous, it definitely requires a different attitude of mind.
Then as a complete change of pace, I raced my Blaze dinghy in the inaugural National Championships and I won! Since then I have sold it and built my own design STEALTH, see the dinghy pages for more details.
After a very pleasant two weeks cruising in my GYPSY to the Scilly Isles it was off to America to show the SAVANNAH 26 at the Annapolis Boat Show. We trailed the boat from S Carolina the 600 miles to the show in 12 hours and hundreds of people viewed the boat. Afterwards we sailed it against several other multihulls in the Multihulls Magazine supported Multihull Demo Days.
We were pleased to find we were just as fast as boats like the Gemini 105 and Seawind 1000 and faster than the Aquilon and PDQ 36, despite being a much smaller boat. With the Aerorig the Savannah 26 can be easily sailed single handed and it is very manoeuvrable under both sail and power.