All Our Designs
DOWNLOAD PLANS GBP175.

Please click on the button below if you wish to buy plans. Note: You can pay using Paypal or with your normal credit card.  
 Plans will be sent as a zip file once payment has been received. This is no longer an automated system, so please allow 48 hours for your order to be processed and your plans emailed to you. 
If you have not received plans after that time please contact us at This email address is being protected from spambots. You need JavaScript enabled to view it.. We never transfer money from Paypal until your plans are ready to send out. Normally if there is a delay it is because we are away sailing.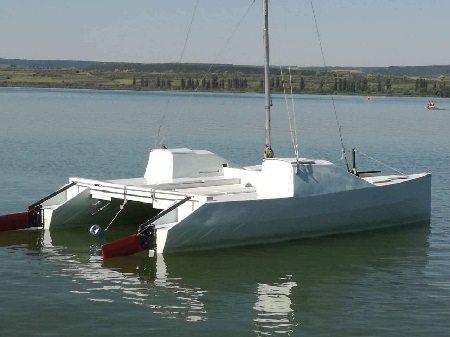 The Acorn is a 21ft lightweight plywood minimum fast cruiser that has been kicking around for nearly 20 years but only recently have plans been drawn. Some parts, eg boards, rudders, spars, can come from large beach cats (ie Hobie 18 or larger). The rig shown is the optional racing rig which is only suitable for experienced sailors in lightwind areas. Smaller rigs are available, see the study plan
For a pdf study plan please CLICK HERE
Please email me at This email address is being protected from spambots. You need JavaScript enabled to view it. for a photo pack showing the hull building (too many to show here)
The photos below show an Australian boat a couple of weeks into the build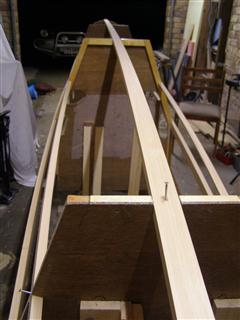 Basic Materials List
PLYWOOD
Hull Sides 11 sheets 4 mm ply (3/16in)
Hull bottom 2 sheets 6mm ply (1/4in)
Hull Bulkheads 2 sheets 6mm ply
Hull Decks 4 sheets 6mm ply
Daggerboxes, beams 1 sheet 6mm ply
TIMBER
100m (330ft) 2in x 1in
40m (150ft) 1in x 1in
20m (70ft) 11/2in x 1in
3in x 1in 5m (16ft)
EPOXY
25kgs epoxy
10kgs 200g glass
(Approx, excluding waste)
Notes:
All plywood to be best quality Marine grade Gaboon ply. Sheet sizes are 8' x 4', 2440 x 1220.
All timber to be at least "Joinery Quality". Unless noted otherwise all timber is softwood,
eg Douglas Fir, Sitka Spruce, Yellow Cedar or similar.
All timber is "PAR", or "Planed all Round".
Thus sizes given are nominal, ie 2" x 1" has a finished planed size of approx 45mm x 20mm.
(Note: It is usually cheaper to buy 2" x 1" and cut it in half to create 1" x 1".
Similarly cut 3in x 1in to make 11/2in x 1in).
Epoxy glue is recommended for all glue joints as it is the strongest and most watertight glue.
However, it disadvantages are cost, toxicity, waste and slow mixing times.
So read the manuals and pay good attention to the toxicity guidelines