All Our Designs
In praise of the Sea Skiff as Tender or Car Topper
By Peter Sheriff and Linda Thompson, Corfu, Greece
(Photos are from Woods Designs files)
border="0" width="1" height="22" />
Having grown up on the Thames, I knew just how much pleasure there was to be had from rowing light narrow skiffs. We had room on our catamaran for a14' tender, so we though why not a sea skiff?
We went to the Wooden Boat Show and saw a wide variety of build-it-yourself skiffs, but the one that caught our eye was the LINNET. She is ply, stitch and epoxy construction and weighed in at 45Kgs. Just right. She had three rowing positions (we were later to find out how important this feature would be), bouyancy tanks, large locker and a transom suitable for a small outboard. Centreboard, sails, rudder and camping cover are also in the design.
So we bought the plans, which were really excellent. They were laid out clearly with step-by-step sketches, cutting diagrams and measurement lists. Everything was clear, nothing was missed - we couldn't go wrong. It was our first attempt at stitch and glue construction, but we had no troubles at all. Really anyone should be able to build with this method. Probably patience is the key factor rather than skill.
We started out wanting a utility dinghy that would get us to shore carrying things like water tanks, bikes and guests. She does all this with consumate ease. The three rowing positions make anything possible. What we hadn't expected was just how much pleasure we get from her. When rowing from the centre seat with no passengers she just skims along using the long oars and taking long strokes. With two rowing you can really feel the power and can keep going for hours without fatigue.
Last summer we explored the bays and islands round here, doing up to 12 miles in a jaunt. With a bit of sea running she feels in her element and totally at home. Like cycling, head winds make a difference and once, caught out in a meltemi, we had a very slow tiring row home, but we made it fine.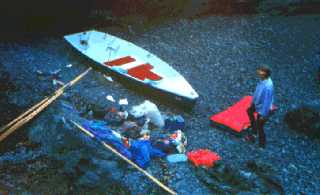 In our experience the advantage of a skiff over a dinghy is that two people can both row efficiently, which drastically improves the power to resistance ratio and the ease with which the skiff cuts through the water with her slender waterline. Rowing is such a pleasure in itself we don't think we shall get around to the sailing rig, and as for the outboard - we sold it!
There is a harmony in rowing together and it is a great way of keeping fit. To us the two great features in rediscovering the skiff concept are the harmony and power of two rowers and the efficiency of a long slim hull combined with long oars.