First Choose a Design

Provisional Specifications:
LOA 9.9 32ft 6in
LWL 9.5m 31ft 3in
BOA 4.85m 15ft 11in
Draft (Hull) .45m 1ft 6in
Headroom 1.95m 6ft4in
Disp (Empty, approx) 3100 kgs
(Loaded) 4100 kgs
Engines two 40-60hp 4 stroke outboards
Speed 12 cruise 17 max with twin 40
Skoota 32 Power catamaran – an introduction
NOTE: The first Skoota 32 production version has now been sold. Building started in Cornwall, UK in May 2016. Plans for home building in foam sandwich are also available. These photos show the prototype under construction and will be added to as the build progresses.
The photo below shows a roughly WL view of one half of the hull mould looking forward. This is the outer side of the starboard hull. The black lines are highbuild paint, the side decks are incorporated into the hull so there is no gunwale joint.
and here is the resulting half hull. Note the only glass joint is along the keel line, so the gelcoat will be removed in that area, the joint glassed and then regelled before antifouling.
In the last 3 years we have cruised over 4000 miles in our own Skoota 28. From north of Vancouver Island to the Bahamas it has proven to be a great liveaboard cruising boat for a couple. In fact I write this on board Skoota at anchor during a gale in the Bahamas, mid way through a 6 month cruise that started in west Texas, over 1500 miles away.

But there is only room for two to sleep on board, it has limited load carrying and no room for friends or relatives to join us for a cruise.

So I have designed the Skoota 32 which has nearly twice the displacement of the 28, which not only implies much better load carrying, but also much roomier hulls. We have found that the Skoota 28 cockpit works really well (we've been out with 12 on board) so I've kept it the same size on the 32. Thus most of the extra length of the Skoota 32 is used to increase the accommodation. The beam is kept under 5m so it is feasible to take it from N Europe through the French Canals to the Mediterranean


All of my powercat designs are semi displacement, not full planing, designs, a concept used both for efficiency and sea-kindliness. The Skoota 32 is no exception and uses my now well proven hard chine flat bottom hulls, which are V'eed forward to prevent slamming and have generous buoyancy aft to stop stern squatting at speed. The foredeck is carried to the bow to reduce spray and increase usable deck space as well as making anchor work secure and easy.

As on the Skoota 36 the hulls are symmetric to increase loading capacity. I have drawn a high (450mm, 18in, minimum) bridgedeck clearance both forward and aft for speed and comfort in rough conditions. Large watertight compartments minimise the risk of sinking after a collision.
It is designed to be built in foam sandwich flat panel and is intended for limited production.
However by using simple melamine flat table moulds amateur builders can also build it. As the build system results in a mainly gelcoat finish, very little filling and fairing is required and so the hull shell should be a fast build.


Most powercats in this size range have very limited interior room. In part that is because their aggressive styling leads to a short cabin, but also because the commonly used inside steering wastes a lot of space. For it is not just the wheel and helm-seat plus controls that take up room, but there must also be space to get to it all.

And that is the main reason for having outside steering. Of course all round vision from the helm is also a major factor. The rigid wheelhouse and windscreen have a canvas bimini aft, with roll up sides. So it is dry and warm to steer, and the cockpit becomes an extension of the living area in most conditions.

Some powercats have inboard engines. Again these waste space. Furthermore the in-hull engines are smelly, noisy and hot, all of which are especially unpleasant if bunks are fitted above the engines.

Instead the Skoota 32 uses reliable, modern 4 stroke outboards. Twin 40-60hp engines and a fuel capacity of 250L mean a range of over 300 miles at 12 knots. Use one engine for economic cruising at up to 8 knots, or both for a 12 knot cruise and 18 flat out. Twin engines also mean Skoota can turn on the spot – no bowthrusters needed!

With both engines and steering outside, the interior of the Skoota 32 is a "house", there are no "boat bits" in it at all. I've lived on boats for many years and know that privacy is essential. So one hull is reserved for the owner's cabin. The other hull is for guests and can vary, either twin singles or a single and a forward double that matches the owner's.
The photos show the interior being built, so are slightly confusing, you have to make allowances for temporary supports and builders mess!
Saloon seating area above, and galley below
Cockpit details
Unlike the Skoota 28, the 32 has a lot of accommodation in the hulls with full headroom. This is looking forward towards the main double bunk cabin
And to the heads/shower compartment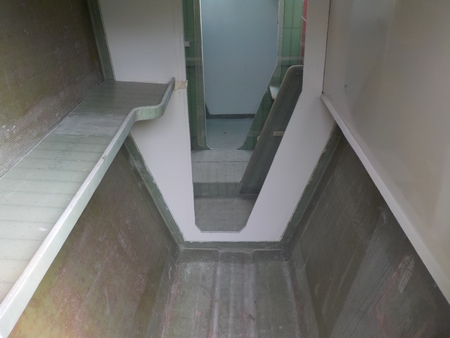 One bunk area can be used as an office when no guests are on board. Or a second heads/shower can be fitted if two couples share the boat. One advantage of the foam sandwich construction is that the interior layout can be easily modified to suit individual requirements. There is sitting headroom over all the bunks, while there is standing headroom throughout, even in the hull walkways.

There is a large hanging locker forward in the owner's cabin with room for both a dressing area and a "vanity" unit. The head is separate from the shower stall, so it can be used by all on board without disturbing the owners. Centrally positioned in the hull there is no need to squeeze past the head and hose runs can be kept short.

The main saloon area is nearly 12sqm (120sq ft). The saloon seats are on a raised platform to give better vision and can be converted to an extra double bunk if required. I drew a rectangular shape so it's easy to sit back and relax to watch TV or read, impossible to do with a curved seating arrangement.

The adjacent wrap round galley has 2.6sqm (nearly 30sqft) of worktop with room for a double sink, oven and large fridge/freezer. Not forgetting masses of shelving. Of course there is lots of other storage both on deck and below.

Just as we have found the Skoota 28 to be perfect for a cruising couple, by offering a larger galley, more saloon space, convenient heads arrangements and comfortable sleeping accommodations, the Skoota 32 will be ideal for a cruising family and friends.

For more details please email me at This email address is being protected from spambots. You need JavaScript enabled to view it.