All Our Designs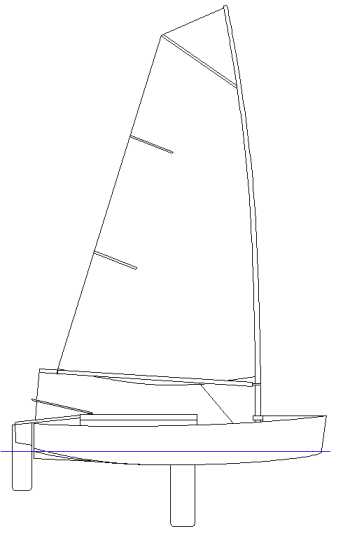 LOA 3m (10ft)
Rowing Beam 1.0m (3ft3in)
Sailing Beam 1.5m (5ft)
Empty Hull Weight 20kgs (45lbs)
Sail Area 5sqm (53sqft)
Draft 0.13m - 0.75m (5in - 2ft6in)
Crew capacity 1-3
Outboard 2.5hp max (5 knots speed with two people)
Plan Price (download only) GBP35.00
Please click on the button below if you wish to buy plans. Note: You can pay using Paypal or with your normal credit card.  
Plans will be sent as a zip file once payment has been received. This is no longer an automated system, so please allow 48 hours for your order to be processed and your plans emailed to you. If you have not received plans after that time please contact us at This email address is being protected from spambots. You need JavaScript enabled to view it.  
You can download a provisional studyplan HERE (updated April 2014)
Sailing my Duo in the Bahamas. 
https://www.youtube.com/watch?v=PK03IQT1O2w
And then rowing and motoring it. 
https://www.youtube.com/watch?v=Eg6SBL5px34
Normally it sits in davits on the back of our Skoota 28 powercat. Because of it's light weight, it is really easy to lift it up there
The cover keeps the rain off and protects the tubes from the sun
The prototype Duo, above, and a nice bow wave when rowing at over 4 knots! Note the alternative basic inflatable rollers used as buoyancy tubes
Of course you don't need the tubes to sail it. But if you are using it as a yacht tender (as we do) then the tubes are highly recommended. After-all there are good reasons why most yacht tenders these days are Ribs or airfloor inflatables. Drier, easy to come alongside without damage being two.
The Duo is a simple to build 3m (10ft) hard chine rowing and sailing dinghy that can be built from just two sheets of 4mm (3/16in) plywood. It is also available as a nesting dinghy, so it can be stored on a cabin roof or even in the back of a car. Typical build time for the basic rowing boat ready to paint is 35 hours.
Duo is really two boats in one. The detachable, inflatable collars mean the boat is narrow on the waterline, as that makes the boat lighter and faster, especially when rowing or motoring with a 2hp outboard. Yet the collars mean the Duo remains safe, stable, dry and buoyant. Then, in sailing mode, with the collars removed and the "wings" added the Duo is a fast, fun and safe boat. The photo below shows another Duo with "Dinghy Dogs" fitted. Much neater than the inflatable rollers. You can also see the aft seat/tank option (only if the non-nesting version is built)
Even when using epoxy glue and okoume plywood hull materials cost should be under GBP100, USD150.
The rowing, sailing and nesting plans are now available. A quote from a builder "Thank you very much for the updated plans for the Duo. Just had a quick look over them and I think the solution to the nesting joint is brilliant. A beautifully simple approach to solving this problem !"
The complete set of plans comprise 27 sheets, which you can print out on A3 paper (legal) or A4 (letter).
Although sensibly only one person (or maybe two children or adult and small child) will sail the Duo it is safe to take three adults when rowing or motoring. Not a great photo, but this does show our Duo being rowed with three adults on board. I weigh 80Kgs, the two women with me somewhat less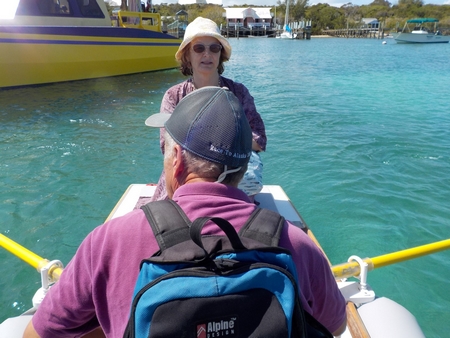 The Duo is also used as the main hull for the Tryst trimaran. You can build the Duo and then add outriggers later (which is what I did)
Detailed Duo Dinghy Design Comments March 2014 (scroll down for build and nesting photos, videos and the latest news)

I've built and owned a number of my Crayfish dinghies. Despite being a 30year old design, it's a great 8ft plywood yacht tender and still selling well. However, now that we have a powerboat (the Skoota 28 powercat) as our main cruising boat, I wanted to have a dinghy that sailed better, one that I would enjoy sailing when we were anchored. So I have spent some time developing a new design, the 10ft Duo.
I grew up sailing a pram bowed boat (the Poole AB) so know from personal experience that a stem (ie pointed) bow would be faster and more seakindly. Furthermore a longer boat makes a better rowing boat - it tracks better and is easier to row.
Obviously the longer the boat, the heavier it is, but I still wanted a boat that would be easy to lift on board and to carry, not drag, up a beach. It had to be safe and seaworthy for two people (or three at a pinch) plus have sufficient built-in buoyancy to support the crew if swamped.
Inflatables and RIBs are popular as tenders, in part because they don't scratch a yacht's hull when coming alongside. They are also very stable and are easy for swimmers or divers to re-board, while at the same time the tubes help keep the boat drier when motoring.
So I decided that Duo should be a "sort of" RIB when in rowboat mode. Cheap inflatable boat rollers are clipped to the outer hull sides. They add lots of reserve buoyancy, yet keep the cockpit clear - just like a RIB. Obviously they can still be easily removed and used as rollers if necessary. And certainly agile, experienced sailors will unclip them when sailing. As our Duo will be used as a tender for our Skoota 28 powercat we have also fitted a "bumper" round the bow.
The boat rollers are very cheap (say around GBP10, USD15 each available world wide) I started with two small rollers but am now using one longer one (not shown in these early photos) 1600 x 250mm, approx 5ft x 10in dia
You can also make your own from PVC, or even buy ones specially made 
Unfortunately a RIB doesn't make a very good sailing boat, and some find conventional small dinghies uncomfortable to sail and prefer to have a seat to sit on, not wet floorboards. So in sailing mode Duo has slot-in foam filled "wings," or hull extensions. Such wings have been used for years in International Moths, 49ers and other high performance dinghies, as well as on beach cats like the Hobie 17 and 18, but rarely on small boats. Note, these wings are not needed for heavier helms sailing in light winds.
Duo has a simple unstayed 2 piece mast, which stows on the boat for transport without overhanging, and also makes it possible to rig while in the water alongside the "mothership." A mainsail set well forward keeps the cockpit large and uncluttered.
It also puts the main thwart further forward, which means the crew weight doesn't drag the transom when rowing. The hull is not a true planing hull, (after all you cannot plane when rowing!) but due to its light weight and narrow hull, it still has a good performance. The photo above shows the Duo on its first sail, complete with both wing tubes and a partial hull collar. The latter is suggested for beginner sailors, but is not needed for those with more experience, see the later videos and photos below.
A prerequisite had to be that the boat was simple, quick and cheap to build. It also had to be durable. I have found from bitter experience that a fabric dinghy does not last long when "out there doing it."
So I designed Duo to be built in hard-chine plywood. Fortunately this is also the lightest building material for a boat this size. There are lots of single sheet plywood boats around, but they are all too small for what I wanted. So I decided to draw a two sheet boat - hence the name. And as you can see, there isn't much scrap ply left!
I also set myself an arbitrary two day build time. OK, let's say 20hrs, so probably a three day actual time, to allow for glue to cure. That meant I needed to simplify every stage of construction.
For example, even though the hull has a pronounced sheer (which helps keep the boat dry), the gunwales are actually straight on the ply sheet, so you only need to mark and cut a curve along the keel line.
A V-shaped transom reduces drag compared to a flat bottomed boat, especially at low speeds. But the V is not the whole length of the hull as that adds weight, extra building setup time and more glass taping. Fortunately I only had to compromise the hull slightly to get all the panels for the rowing version (but including the daggerboard case and buoyancy compartments fore and aft) from two sheets.

As well as a high bow, I also drew a high stern to take an outboard. If it were too low then the transom could go underwater when working on the engine or even starting it. The outboard (or an electric motor) is offset (to port if right handed) making it easy to start and control. One final item not seen on small dinghies, but common on racing boats is an opening transom flap, so no bailing after a capsize or a swamping.
Many people build an overweight boat "because it's stronger," but it's also heavier and in fact, unnecessarily strong. The extra weight means it's usually dragged, not carried, up a beach, it needs a bigger rig and generally is too much of a lump to be fun to sail.
I've built 14ft racing dinghies in 4mm ply, while my 15ft trimaran has a 4mm mainhull and 3mm outriggers. So using 4mm ply for a 10ft dinghy will not cause problems. A bonus is that cutting out 4mm ply takes half the time of 9mm, which speeds construction. And, as 4mm ply only weighs 6kgs a sheet, the whole boat will weigh under 20kgs, making it very easy for one person to lift and carry.
You can download a provisional studyplan HERE (updated April 2014)
The Duo seems to have struck a chord, it has already been the "Wooden Boat Magazine" "Boat of the Week" and will shortly be featured in Small Craft Advisor magazine
I have also drawn a nesting version, with the join at the front edge of the thwart. That means the Duo can be stored onboard smaller boats, and can fit inside a car, rather than on the roof. Photo below shows an Australian built Duo. The conduit tubes on the outside of the hull will take the inflatable beach rollers
======================
I started to build the prototype Duo dinghy on March 31 when I began marking out and cutting the hull panels. By the end of the first day I had all the panels cut out and framed.  I then got distracted by "real work" - drawing, tax returns, customer visits and so on, so only did a couple more hours over the next few days.


So it wasn't until the 7th April that I was able to wire up the hull, fit the bulkheads and glass the inner chine joints.
Today, the 9th, I cut out and fitted the deck panels and buoyancy compartments. The boat will now float with no leaks, but it will be a few more hours to glue in all the decking and make the outer chine joints to make it a safe, seaworthy rowing boat.
Total build time so far is 15 hours. so it looks as though my 20 hours ready to paint for the basic rowing boat is feasible. The weight so far is 40lbs, including the two clamps, which weigh more than the extra glue and glass still needed.
I haven't ever tried to hold a 10ft long boat above my head before, it's more difficult than it looks! It is much easier to lift it with two fingers.
There certainly won't be any problem in finishing the boat in the allotted two days of the Edensaw Boatbuilding Challenge to be held in September during this years Wooden Boat Festival in Port Townsend, Wa, USA (providing it doesn't rain - boats are built outside)
I'll post my next progress report once all the gluing and glassing is complete.
UPDATE April 20th 2014
Today we launched the Duo and rowed it for the first time. It is effortless rowing with one person. I did try a kayak paddle, but as expected the Duo has a bit too much freeboard for paddling to be efficient. I have not yet fitted the inflatable tubes, which will help stabilise the boat, much as they do on a RIB. We borrowed the overlong oars, which made it awkward to row.
The build time to date, including the daggerboard case, outboard bracket, mast step and two coats of paint is 35 hours. Weight as seen here, including galvanised rowlocks, outboard bracket, daggerboard case and mast step is 22.5kgs, 50lbs.
Even without the collars the Duo is safe and stable, as the bow stern and thwart are all buoyancy compartments
You can see a rowing video here https://www.youtube.com/watch?v=_eDo8Z9DP04
with the inflatable collars fitted
https://www.youtube.com/watch?v=C-2OOdXyw1k
and a sailing video here https://www.youtube.com/watch?v=Z6qB-aZUeyI
We have now painted the Duo to match the Skoota
and a video here https://www.youtube.com/watch?v=PbL9p6gyEVE  Even I am surprised how fast it is in light winds. It's also fun to sail, it's definitely not a "slop along placidly" sort of dinghy.
Recently we tried a Suzuki 2.5hp outboard. 7.5knots with one on board is pushing the design as it was never intended to be a planing boat. It does 5 knots at less than half throttle. With two people on board we did between 5.1 and 5.3 knots (sorry no photos - photographer Jetti was on board with me!).
Premier UK cruising magazine Yachting Monthly  ran a test on alternative yacht tenders (ie not inflatables). In brief the boats tested included: Walker Bay, Tinker Tramp, Portland Pudgy, Nutshell Pram, Stowaway K2 etc.
Basically a selection of folding, nesting, and rigid boats. They were all tested with a Honda 2.3hp outboard (so slightly less than our 2.5hp) and two crew. The fastest in the test was the Nestaway Pram which did 4.8 knots - but costs GBP4300 (USD7000) and is nearly twice the weight of a Duo.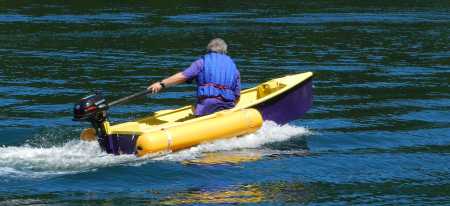 And then if that were not enough we cut the boat in half! It will now nest (I still have to make the forward section "transom" in this photo)
When nested the length is 1.65m, 5ft6in, 1m, 3ft3in wide and 500mm, 22in high, so it will fit completely inside our pick-up truck (6ft long bed) even with the inflatable collar, sailing rig and outboard. Even the trimaran version, Tryst, will easily fit inside. The aft section is buoyant and watertight enough to safely make short trips without the forward section attached. As you can see in the photo below
It only takes few minutes to join the two halves. The bottom is held by angle brackets that slot together, while the gunwales are held by two bolts. Very simple and cheap.
We have now made some canvas bags that take the inflatable tubes when in sailing mode. They are normally well clear of the water, fit and agile sailors won't use them at all, but I am neither so appreciate the security they give.
They look a lot neater and it is quick to pull out the tubes so they can also be used as beaching roller, saving using a launching trolley. And of course, you take the rollers with you, so can beach it anywhere.
The photo below shows our pickup truck which has a 6ft long bed. In it you can see the nested Duo complete with sailing rig, daggerboard, rudder, wings, oars, inflated tubes for both sailing and motoring, an outboard engine, two sets of sailing clothes, tools etc. Plus room for more!
The sailing and nesting plans are now available. A quote from a builder "Thank you very much for the updated plans for the Duo. Just had a quick look over them and I think the solution to the nesting joint is brilliant. A beautifully simple approach to solving this problem !"
If you have a big boat then the Duo fits easily in davits, as shown here on our Skoota 28 powercat
The complete set of plans comprise 27 sheets, which you can print out on A3 paper (legal) or A4 (letter).
You can download a provisional studyplan HERE (updated April 2014)
Even when using epoxy glue and best quality okoume plywood hull materials cost should be under GBP200, USD300.
Below is a Duo being home built to a very high standard at the end of the first days work.
and after three days
Note that this builder fitted the gunwales after wiring the hull panels together. That made it easier to pull together and it still stayed square (we used the same technique in the Edensaw Challenge). The he fitted the outer gunwales and lastly the inner gunwales, which were fitted in sections, so the bulkheads did not need notching (as you can just see in the photo above, that aft tank bulkhead is recessed to allow for a cushion)
Which way you build is your choice, both work.
14yr old Peter built this Duo largely unaided. He used a cut down Enterprise sail (even so its still oversize) and a broken Firefly mast (hence the rigging, which he still has to finalise)
you can see a video of his first sail here. Note, some 7 years later I bought Peter's Duo and now use it as the tender to my Chat 18 catamaran.
https://www.youtube.com/watch?v=b4CBeqeCiM0&feature=youtu.be
Then a Canadian builder wrote: "I've just finished building a Duo and I'm enjoying it, it's a little rough but it's my first ever woodworking project and I'm quite proud of it."
"The oar spars work ok, they weigh about 3 pounds each so they're a bit heavier than they need to be but not bad.
The sail is poly, about 35 sq. ft, and a lot of carpet tape and extra wide Gorilla tape :) I made it small because I tend to be a bit cocky and figured the small sail would protect me from myself, I'll make a bigger sail once I get a bit better at sailing, probably a sprit boom or a cat rig. You're more than welcome to use the picture on your website if you like, I love showing off my boat, I wheel it down to the boat launch and folks often stop to admire it and ask questions."
You can see a great video series on building a Duo here https://www.youtube.com/playlist?list=PLIxc1t09CmIyYivg_YHKxyiXXipI4YI3M The builder then converted the Duo to a Tryst trimaran by adding simple outriggers - which in fact is what we also did. See the Tryst page for more details
==================================
Our Skoota was beautifully built by Josh Turner of Wheelhouse Woodworks. Josh agreed to help me build a Duo in the 2 day Edensaw Boatbuilding Challenge, which is part of the Port Townsend Wooden Boat Festival in September.
You can see a report HERE