All Our Designs
Download Plans GBP2150
Please click on the button below if you wish to buy full building plans. Note: You can pay using Paypal or with your normal credit card. 
Plans will be sent as a zip file once payment has been received. This is no longer an automated system, so please allow 48 hours for your order to be processed and your plans emailed to you.

If you have not received plans after that time please contact us at This email address is being protected from spambots. You need JavaScript enabled to view it.. We never transfer money from Paypal until your plans are ready to send out. Normally if there is a delay it is because we are away sailing.
This is a big boat, available in two versions, as a comfortable liveaboard cruiser or as a sporty charter boat. Building plans are available in foam sandwich or plywood. Both versions share the same basic semi displacement hulls, but they have different deck and interior layouts. It is huge compared to the Skoota 28 (which, despite being smaller, we still find comfortable enough for the two of us to live on full time for weeks at a time)
The sketch above shows the charter version (a fly bridge is optional see photos below)
You can download a provisional study plan HERE
The sketch and photos below show the live aboard version. You can download a study pack of this version HERE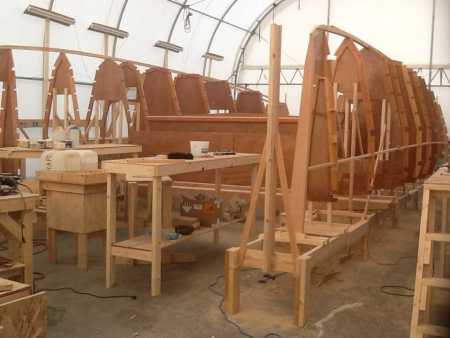 Dinis, the proud owner, taking a rest from building in April 2014. He's doing a great job, to a very professional, high quality and it's the first boat he's built!
Then later, ready to sheath, with glass cut to shape
The completed shell was turned over in late October
"What was really impressive was, not  one single squeak was heard, during the lifting from the strong box or turning over, she is absolutely solid."
The Skoota 36 is a very much larger boat than the 28, a few extra feet in length make a huge difference to the volume of a boat, and unfortunately, to the build time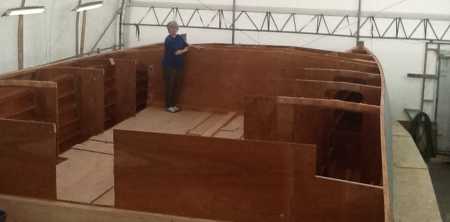 More details of this design will be uploaded as it is developed. Several sets of plans have already been sold, one to a live aboard couple in Canada, shown above, while this one, below is being built very quickly in the UK. The top photo, below,  is after less than a months work, the lower a couple of weeks later. See more HERE
And below is one being built in Key West, USA
Some time later...
and then with the interior completed
Basic Materials list for the complete shell (a more complete list will be drawn up after completion of the first boat)

total 35 sheets x 6mm, 90 sheets x 9mm, 13 sheets x 12mm

As you can appreciate, it is really hard to estimate epoxy use. I estimate 240kgs (60gals) epoxy and 240m (250yds) of 1.3m (50in) wide (standard width) 200g 6oz glass

1400m 1in x 1in equivalent (800 board feet)

Maybe 10,000 1in x no6 CS stainless steel screws