First Choose a Design
DOWNLOAD PLANS GBP1050.00
THE FACTS AND FIGURES
strip plank hulls ply decks
foam sandwich (professionally built moulded grp boats are available, please contact us for more details)
NEW! Tamar 31, a slightly stretched hard chine plywood hull option instead of round bilge, see comparison sketch below

LENGTH O.A. 9.14m 30ft
LENGTH W.L. 8.55m 28ft
BEAM O.A. 5.95m 20ft
DISPL (empty) 1.8T 4000lbs
DISPL (loaded) 2.7T 6000lbs
HEADROOM 1.5 - 2m 5ft - 6ft6in
DRAFT .5 - 1.5m 18in - 5ft
SAIL AREA 46.5sq m 500sqft
Sagitta was designed as a fast comfortable cruiser and it comes with the options of daggerboards or LAR keels. The former is an excellent choice for those who want to race, yet still have the comfortable cruising home that families enjoy. The LAR keel version is better suited for those who only cruise and is essential if you want to fit small diesel inboards.
Sagittas have proven successful race boats, see the Articles pages, offshore race reports, and have cruised far and wide. Several have sailed UK to the Mediterranean, at least three across the Atlantic, the longest trip from S Africa to New Zealand via the Panama Canal. 
Owners Comments:
"Overall the Sagitta proved a comfortable boat at sea with an easy motion even in the lumpy conditions (25 - 35 knots of wind and sometimes a bit more). Altogether she makes a very attractive boat" Multihull International Boat Test 1992
In the summer of 2010 the Dutch Sagitta Glatisant (see photo below) cruised to the Azores and back. Marc wrote "Yesterday we arrived from the Azores in IJmuiden (NL) after a 15 days journey. The journey out, from Brest (FR) to Santa Maria (Azores) took us much less: 7 days and 7 hours (max 17.1 knots during a surf). Everything went OK, Glatisant behaved very well in the ocean waves (7 Bf max). We saw a lot of whales (about 20-25 of different species) and dolphins."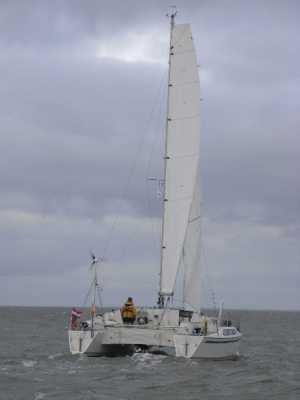 Below is the comparison between the Tamar 31 hard chine hull and the round bilge Sagitta hull. Available for building in plywood it is simpler and cheaper and, as you can see, results in a very similar hull shape. Please contact me for more details.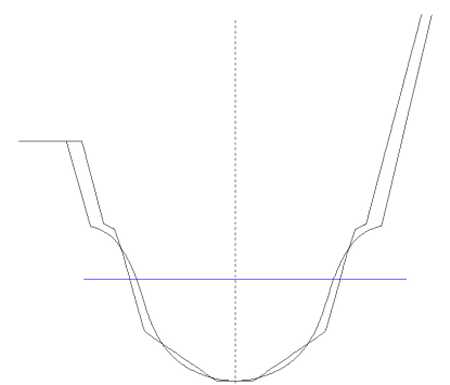 More on Building a Sagitta HERE
More on Sailling a Sagitta HERE
Deck and Interior Photos of Sagitta HERE
Sagitta Boat tests and more Owner Comments HERE

More information about this design can be obtained by purchasing a Study Plan or Partial Plan set, see the "Then Buy A Design" link on the top menu bar