Updates to Plans
Skoota 18 and Chat 18
A builder has just pointed out an error in the upper panel sizes. I suspect that others have seen it already but he is the first to point it out to me. The error applies to both the Skoota 18 and Chat 18. The correct dimensions are given in the attached drawing. However, as the plans say, make this panel over size at the transom and trim it back after fitting to your own boat. It also seems that Bhd2 could usefully be reversed so that the framing is on the forward side. Or simply add an extra 2inx1in on the inner sides to take the hull planking.
The aft cockpit bulkhead, Bhd5 should be as shown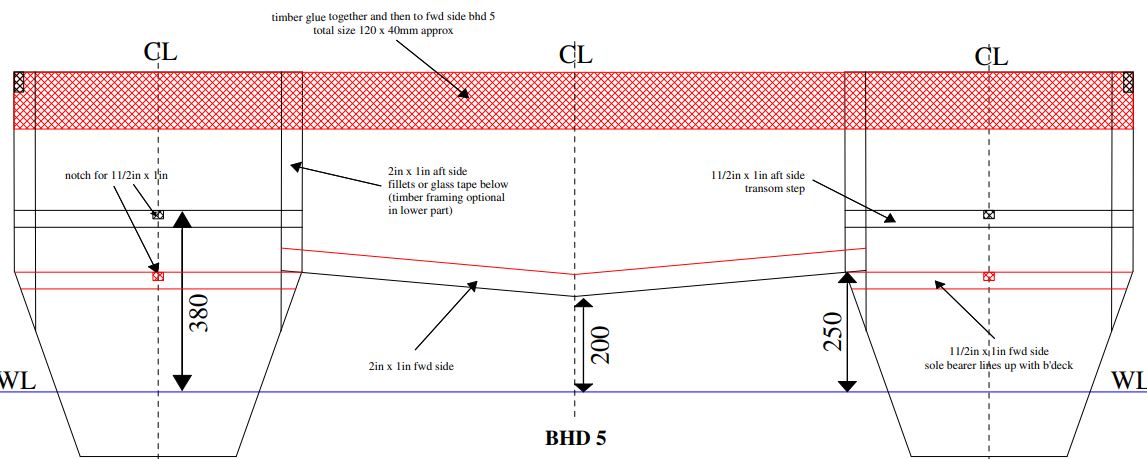 The bridgedeck reinforcing drawing was misleading, below is the revised drawing
The cockpit drawing has also been revised
Then the Chat 18 kingpost has been revised, shown in two drawings below
 We can send you revised pdfs of these images on request
You can use Nacra 5.2 catamaran rudders on a Chat 18 instead of the ones shown. 
You can use a swing down outbaord bracket instead of a nacelle. But make sure the engine clears the tiller bar when up and prop is at least 100mm in the water when at rest
You can use standard 75mm 3in glass tape instead of cloth. But use 3 layers each side and double over the lower chine joint when sheathing the hull
For those who are inexperienced or who prefer gentle sailing a smaller sailplan is now available, see below. Which ever rig you chose a roller reefing jib is highly recommended. I use the Plastimo 406, in part because it can be fitted to an existing forestay. The basic jib furler as shown as an option to hanks does not allow the sail to be reefed, only rolled up.
Please contact me for pdfs of these drawings if you do not have them.
Note: Many people fit a used beach cat rig instead of the gunter rig shown. A 14-16ft beach cat is suitable but a reef point at about 1500 is highly recommended. You can remove alternate lower battens to save weight and friction when hoisting.
If you use the gunter rig then to reef you will need to lower the mainsail completely and re-attach the halyard to another point on the gaff fitted 1500 below the standard position. And you will need another slot in the sail luff tube for that purpose. An alternative is to have a luff groove in the yard and a halyard so the sail can be adjusted as if it were a normal bermudian mainsail
Whichever rig you use you should certainly be handholding the mainsheet in winds over about 10 knots and start to reef in 15. The Chat is a small boat!