All Our Designs
DOWNLOAD PLANS GBP1750.00
Please click on the button below if you wish to buy full building plans. Note: You can pay using Paypal or with your normal credit card.   
 Plans will be sent as a zip file once payment has been received. This is no longer an automated system, so please allow 48 hours for your order to be processed and your plans emailed to you.  
If you have not received plans after that time please contact us at This email address is being protected from spambots. You need JavaScript enabled to view it.. We never transfer money from Paypal until your plans are ready to send out. Normally if there is a delay it is because we are away sailing. 
THE FACTS AND FIGURES
strip cedar round bilge hulls, ply decks
foam sandwich
NEW! Tamar 31 hard chine plywood hull option instead of round bilge, see comparison sketch below

LENGTH O.A. 9.9m 32ft
LENGTH W.L. 9.45m 30ft6in
BEAM OA 5.9m 19ft6in
DISPL (empty) 2.75T 6100lbs
DISPL (loaded) 3.7T 8200lbs
HEADROOM 1.9m saloon, 2m hulls (6ft2in, 6ft 6in)
DRAFT 0.5 - 1.7m (daggerboard version) (18in - 5ft6in)
(0.9m LAR keel version) (3ft)
SAIL AREA 57sq m (615sqft)
We built the prototype ECLIPSE for our own use and it exceeded all expectations. It has proven a race winner (winner of 2002 Round The Island race) and a safe comfortable ocean cruiser. Eclipse left the UK in late 2002 and then sailed over 15,000 miles to the Caribbean, N America and beyond. Check the Boat Tests and the Article pages for more, much more.

Load carrying is sufficient for ocean cruising for a couple, while the performance is astonishing for a cruising boat. So far a top speed of 21 knots, while its capable of 8.5 knots to windward tacking through less than 90 degrees.
It has proven to point higher than monohull race boats 20' longer. In the UK's Round the Island race we beat some of the top Mumm30's to windward in 20 knots apparent wind. In earlier races we comfortably beat boats like a J92 to windward.
ECLIPSE features standing headroom throughout and all round visibility from the saloon. Seven people can sit comfortably in the saloon, while the galley is large with 1.6 sqm of work surfaces, a separate hob and large eye level oven and grill.

The aft cabins have large dressing areas and wide double bunks with sitting headroom. The heads compartment is over 1.5m long with shower and large vanity unit.
Options include daggerboards or low aspect ratio (LAR) keels and tiller or wheel steering. Engines can be a 9.9hp 4 stroke outboard or twin diesels (LAR version only)
The pronounced knuckle and high bridgedeck clearance means bridgedeck slamming is a thing of the past.
Below is the comparison between the hard chine hull and the round bilge hull. Available for building in plywood it is simpler and cheaper and, as you can see, results in a very similar hull shape. Please contact me for more details. One set of plans for this version has now been sold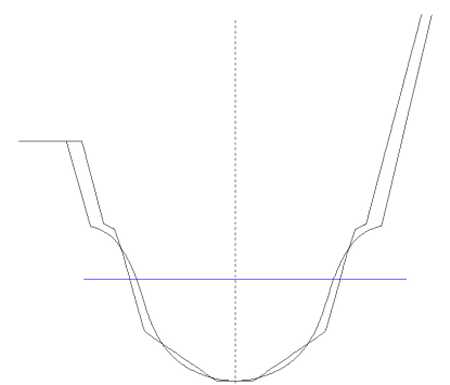 More on Building an Eclipse HERE
More on Sailing an Eclipse HERE

Interior Photos of Eclipse HERE

Eclipse Boat tests and owners reports HERE

Eclipse Videos HERE

Eclipse Materials List HERE
More information about this design can be obtained by purchasing a Study Plan